This year's almond-shaped Valentine's Day nails are just to die for – well, not literally… 😂 Haha but I love how detail-oriented these nail designs are…
And because I know most of you reading this are into almond-shaped nails, I ensured that all the nails here are shaped that way.
Also, I did make a point of choosing almond nail designs that go against the red Valentine nail norm that has been there for decades.
And heres why I did that…
3 or 4 years ago, Valentine's nails had to be red… Either red glitter or red polish. What that meant is that after February 14th, those nails were no longer in style.
So I thought to myself. "Can't I create a nail post that encourages women who love almond shaped nails to wear Valentine's nails that aren't red?"
And I did just that with this post.
So here's what you'll find in this post.
You'll find different almond shaped Valentine Nail designs that don't necessarily use the red polish… But they keep the Valentine-themed symbols like hearts, XO, and love calligraphy on the nails.
Also, be sure to checkout my almond- shaped Valentine's press on nails that are also part of this list.
The press on nails are inexpensive ranging from $49-$89 with 22 nails in one set.
Nude Almond Valentine's Day Nails with hearts
Pink Almond Valentine's Day Nails with hearts
Valentine's Calligraphy Heart Nails
Pink Glitter Heart Nails For Valentines
Pink Valentine's Day Acrylic Chrome Nails with Heart Designs
Almond Heart All-over Valentine's Nail Design
White & Red Heart-All-Over Nail Design For Valentine's Day
French Tip Heart-All-Over Nail Design
Nude-colored Heart-All-Over Nail Design
Red Glitter Heart-All-Over Nail Design For Valentine's Day – Almond shaped.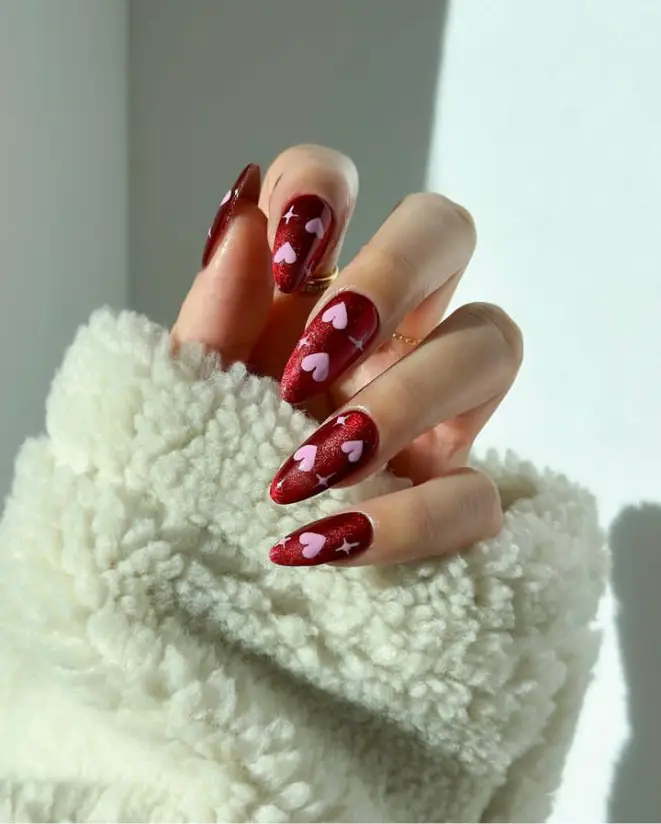 Natural Heart-All-Over Almond shaped Valentine's Nail
Valentine Swirls Almond Shaped Nail Design
Valentine X❤️X❤️ Almond Shaped Nail Design
White Valentine's Day Almond-Shaped Nails with Heart
Almond Valentine's Chrome Nails